Bardenas Reales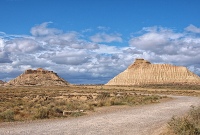 The Bardenas Reales is a natural park in Navarre, northern Spain. It is a semi-desert, badlands of about 42,000 ha.
The climate in the park is dry and windy. A few little rivers in the park are dry most of the year. The highest point of the Bardenas Reales is at 659m. Water and wind eroded the soil (made up of clay, chalk and sandstone) forming canyons, plateaus and seamounts (lonely hills).
Somewhere in the middle of the desert there is a military base (including Spanish Air Force) taking up to 5.5% of the desert area. The base is excluded from the park and unauthorised access is forbidden.