El Chorro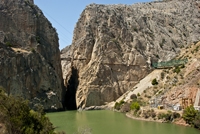 A village in the municipality of Alora in Andalusia in southern Spain with about 250 inhabitants. It is one of the main climbing centers in Spain. El Chorro is also famous for its beautiful views: limestone gorge through which passes the the Guadalhorce river, lakes and mountains.
El Chorro means the spurt. The village was given this name, because of the terrific floods caused by the three rivers (Guadalhorce, Guadalteba and Turón) flowing through Los Gaitanes Gorge before the dams were built in the early 1920s.
Caminito del Rey
There is an old, rather severely destroyed path called Caminito del Rey (The King's pathway) as it was opened by Alfonso XIII of Spain. Due to multiple accidents (including fatal ones) the path was closed in 2000.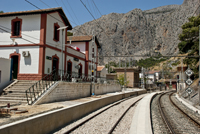 In the second half of the XIX century the railway network was built going along the Los Gaitanes Gorge and cutting the mountains with tunnels. Since then El Chorro has been connected with Malaga, Seville and Cordoba. At the El Chorro railway station only commuter trains stop.
Von Ryan's Express final scene location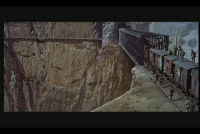 The El Chorro region was used to make the final scene in Mark Robson's movie: Von Ryan's Express starring Frank Sinatra and Trevor Howard. The movie's creators loved El Chorro so much that it didn't even matter that the final scene story was taking its place in Italy not in Spain.
One of our readers asked how to get to El Chorro from Madrid but didn't give us their email address so I'll explain this here. The easiest way I think is taking fast train from Madrid to Málaga and then commute train from Málaga to El Chorro. You can find train routes here: train connections (choose the following train stations From: Madrid-Puerta de Atocha To: El Chorro (APT.)) Or you could rent a car. P.S. I think that one day is much too short time to spend in El Chorro, however, since I love this place as much as I do I might be biased.