Las Médulas
Las Médulas
Las Médulas is a village near the town of Ponferrada, Castile and León, Northern Spain, where one can admire the remains of one of the most important gold mine in the Roman Empire.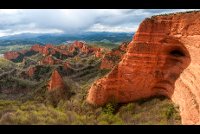 The site owns its uniqueness to the technique used by the Romans to get to the gold. In this technique (called ruina montium) miners would put huge amount of water in the underlying supports of a mountain to make parts of it collapse or at least get weakened. The water was provided from rain using aqueducts.
In 1997 Las Médulas was included as a World Heritage Site by UNESCO.