Gaztelugatxe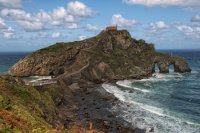 Gaztelugatxe, one of the most unique places in Spain, is a little island situated in the Bay of Biscay just at the Spanish coast in Basque Country. There is a John the Baptist's hermitage (in Spanish: San Juan de Gaztelugatxe; or Gaztelugatxeko Doniene in Basque) on the top of Gaztelugatxe. The hermitage dates from the 10th century.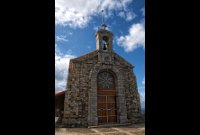 The path to the church
The island is connected to the coast by a two-arch stone bridge. After crossing the bridge there is a stairway consisting of 231 steps leading to the hermitage. Walking upstairs pays off with an amazing view that a person who climbed there gets.
Via Crucis
There 13 Stations of The Cross on the stairway and the 14th Station located at the top of Gaztelugatxe.
How to get there
Unfortunately there is only one very good way to get there: by car. Other means of transportation are quite far away. There are a few car parkings along the BI-3101 road. From there there is 15-30 minutes walk. There is a road connecting the BI-3101 road with the tip of the coast very near Gaztelugatxe but one cannot drive on this road without authorisation.