Granada
autonomous community of Andalusia, Spain
There is a Spanish saying: One that hasn't seen Granada saw nothing.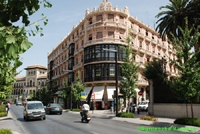 Granada is a capital of province Granada in Andalusia in Spain. The city is located at the foot of the Sierra Nevada mountains, at Genil river.
It is famous for its heritage and countless monuments, its views and the Sierra Nevada mountains which are the most southern place in Europe for skiing. The biggest group of monuments is Alhambra "the red fortress" with such monuments as Generalife or the Tower of Justice, the remains of Islam.
Heritage and monuments:
Albayzin
Alcazaba
Cathedral of Granada
Charterhouse
Generalife
Palace of Charles V
Royal Chapel
Sacromonte
Travel tips:
The closest airports are in Malaga and Seville. Further away are the two main airports of Spain: Madrid and Barcelona. From those cities one can travel by car, train or bus.
Travel by train:
Madrid - Granada takes about 5 - 6 hrs (if one chooses to go with the fastest trains and do not spend much time on changes) with two changes in Cordoba or Seville and Bobadilla. The first train is high speed AVE, the next two may be Interregio or commuter train.
AVE and Interregio trips are subjected to compulsory reservation.
Commuter trains do not require any reservations and there is no 1st class. If one travels with Interrail ticket they do not have to worry about anything just go on the train and enjoy the trip.
More details on train timetables are available on DB Bahn website here.
Tips on getting into Alhambra:
In order to get into Alhambra one needs a ticket. When it comes to the tickets pools there are two pools per day. One for the first part of the day and the other one for the second. One can order a ticket on the website (sometimes you need to order one month in advance, especially around the Easter time).
It is possible to buy the ticket at the cashier at Alhambra but you need to be very early and wait in a queue.
Current prices and information on buying tickets are available here.